Scientists at pathology labs in Montpellier, France and Groningen, The Netherlands evaluated the Agena Bioscience® UltraSEEK® Lung Panel on the MassARRAY® System for the detection of EGFR mutations in liquid biopsies of non-small-cell lung cancer (NSCLC) patients.1
The Challenge

In patients with NSCLC, improved outcomes are highly dependent on personalized treatment—and personalized treatment depends on strategies that target specific mutations.
For example, predictive biomarkers for treating NSCLC patients with EGFR tyrosine kinase inhibitors (TKIs) include activating mutations of EGFR in exons 18-21. To treat patients with targeted TKIs, molecular testing has been recommended. While patients initially experience high response rates to first- and second-generation EGFR-TKIs, those with metastasized NSCLC who have an EGFR mutation will eventually become resistant and progress in their disease. Mutations in KRAS, BRAF, PIK3CA and ERBB2 have also been reported in patients treated with EGFR inhibitors.
To detect an EGFR mutation, many laboratories today use polymerase chain reaction (PCR)-based methods; however, secondary EGFR resistance mutation detection has been met with challenges, such as low-level allelic frequencies.
Additionally, clinicians are unable to obtain or accurately evaluate biopsies of at least 20% of patients, which led to liquid biopsy approaches that analyze circulating tumor DNA (ctDNA) from cell-free plasma to account for cases of limited tumor tissue. Because ctDNA may account for less than 1% of cell-free DNA in many plasmas, this requires highly sensitive detection methods.
Explore our off-the-shelf or custom panels with an Agena representative. Complete the form and we will follow up immediately.
The Solution

Pathologists from Montpellier, France and Gronigen, The Netherlands tested for mutation-harboring ctDNA in 137 NSCLC patients using the highly sensitive (as low as 0.1% VAF) UltraSEEK Lung Panel on the MassARRAY System. Results were then compared with results from the Cobas® EGFR Mutation Test v2.
The overall concordance between the two tests was 86% (118/137). When > 10 ng cfDNA2 was used (recommended minimum DNA amount for the UltraSEEK Lung Panel, per manufacturer's instructions), the concordance was 100%.
The UltraSEEK Lung Panel detected additional EGFR mutations, which were not detected by the Cobas EGFR Mutation Test, in 18.2% of patients. This included the TKI-resistant T790M mutation: the Cobas test missed 6 out of 34 cases, while the UltraSEEK Lung Panel detected all 34.
The UltraSEEK Lung Panel also revealed 20 additional mutations that are not covered by the Cobas EGFR Mutation Test, including the EGFR C797S and BRAF V600E mutations, which are frequently associated with treatment resistance.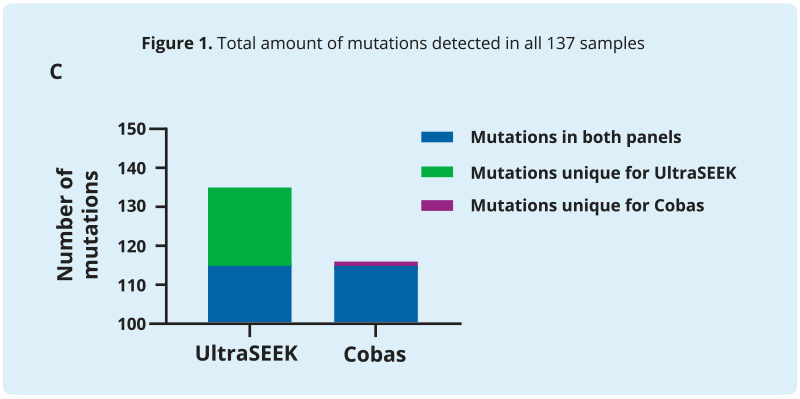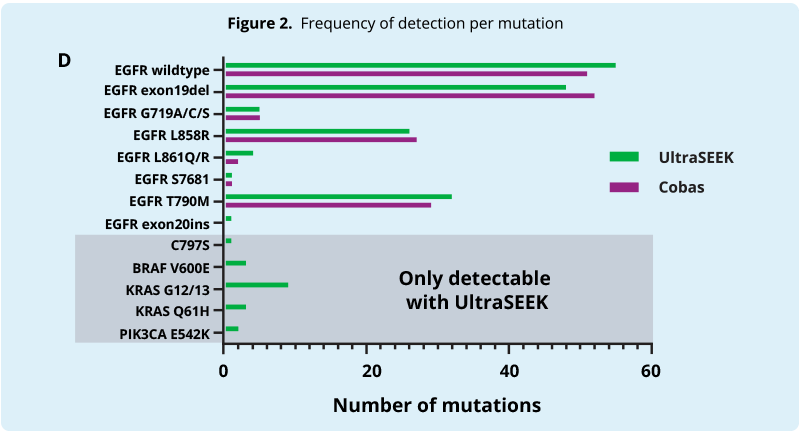 Overall, the UltraSEEK Lung Panel on the MassARRAY System proved to be a fast, reliable, and cost-effective alternative for the detection of EGFR mutations in liquid biopsies of NSCLC patients.
参考资料:
1. Pierre-Jean Lamy, et al. Mass Spectrometry as a Highly Sensitive Method for Specific Circulating Tumor DNA Analysis in NSCLC: A Comparison Study. Cancers 2020, 12, 3002; mdpi.com/journal/cancers
2. DNA amount determined by Agena's LiquidIQ Panel.
Explore the MassARRAY for Ultra-Sensitive, Low-Cost Oncology Testing

Browse our liquid biopsy or tumor profiling solutions and see which ones best fit your laboratory needs. Prefer a custom solution? Design your own custom assay or let our expert scientists serve you.