Meet Kavita Bhat and Myriad Genetics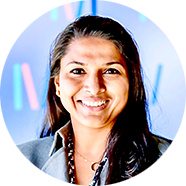 Kavita Bhat is Vice President of Laboratory Operations, Myriad Neuroscience at Myriad Genetics.
Kavita has published in many peer-reviewed journals, with some of her work being highlighted in the Journal of Biochemistry and Proceedings of the National Academy of Sciences. She previously served as vice president of Laboratory Operations at AKESOgen and in a leadership role overseeing laboratory operations and test reporting at MNG Laboratories. Kavita earned her Ph.D. degree in Cellular and Molecular Biology from Georgia State University, Atlanta, M.S. in Microbiology from University of Mumbai-India, M.S. in Molecular Genetics and Biochemistry and her B.S. degree in Microbiology from University of Mumbai-India. She held a post-doctoral fellowship in neurodegenerative diseases at Emory University in the Department of Human Genetics.
Myriad Genetics is a leading genetic testing and precision medicine company dedicated to advancing health and well-being for all, empowering individuals with vital genetic insights and enabling healthcare providers to better detect, treat and prevent disease.
The Challenge
Challenges from previous platforms included high repeat rates, higher costs per sample, and too many hands-on steps which was cumbersome operationally. These challenges arose during a period of rapidly scaling operations from hundreds of samples per day to over 1,000 samples per day.
Explore our off-the-shelf or custom panels with an Agena representative. Complete the form and we will follow up immediately.
The Solution
Kavita offers insights for overcoming these challenges to develop PGx tests with robust performance, scalability and streamlined quality control.
QWhat does Myriad Genetics do? How did Myriad get into the PGx testing space?
AMyriad discovers and commercializes genetic tests that determine the risk of developing disease, assess the risk of disease progression, and guide treatment decisions across medical specialties where critical genetic insights can significantly improve patient care and lower healthcare costs. Myriad Genetics offers GeneSight Psychotropic, a genetic test that analyzes clinically important genetic variations in your DNA. Results can inform your doctor about how you may break down or respond to certain medications commonly prescribed to treat depression, anxiety, ADHD, and other psychiatric conditions. GeneSight became the first combinatorial Pharmacogenomic (PGx) test on the market. Now, GeneSight is the leading PGx test on the market for psychotropic medications, having run over 1.5 million samples in the laboratory over the last five years.
QWhat features were important to you when you were choosing a testing technology?
AThe most important features were scalability, robustness, low cost, and automation to help our business grow.
QHow do you use the MassARRAY® in your laboratory today to help you accomplish your testing goals?
AWith the MassARRAY System, our team cost-effectively tests over 1000 samples/day with a simple, automated workflow.  As we consider adding new relevant markers in the future, we know we can leverage the MassARRAY's flexibility in easily changing the assay design. Agena Bioscience® helped us customize production unique to our needs, which yielded smarter lot control and better performance. They also customized their reagent mix to fit our automation. These factors help streamline Myriad's quality control process and enables scalability. Our Neuroscience team at Myriad Genetics has seen tremendous adoption and growth. We are committed to providing our customers with rapid turnaround time and scalability that enables us to meet the ever-growing demand for the test. With fewer touch points and less variability in workflow, our team can continue to accelerate service to psychiatrists and their patients.
The GeneSight Psychotropic test is supported by  seven clinical studies published in peer-reviewed journals.  GeneSight Psychotropic is the only psychiatric PGx test backed by such extensive research. For more information visit www.genesight.com.
Explore the MassARRAY for PGx Testing
The MassARRAY System enables high-throughput, accurate detection of SNPs, INDELs, and copy number variations across a variety of genetic applications. Explore PGx Solutions on the MassARRAY System to learn how it enables high-throughput, low-cost, and accurate PGx testing.
Connect with Sales: Complete the form below to speak with your territory manager.